Ken Conselyea Award, 2009
Charles J. Keaney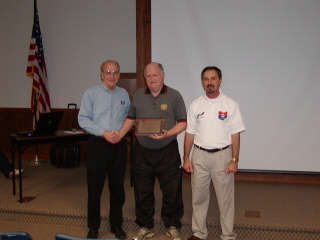 Born 1941, Providence, Rhode Island
Presently a 45-year resident of Cincinnati after having grown up in the wilds of Cranston, RI, Princeton, NJ, Richmond, ME, Helena, MT and Methuen, MA.
Very happily divorced with two older children, Cheryl (42) and Shannon (40) and three grandchildren, Eric (20), Tyler (9) and Brigette (5).
1964-1965 BS & MS in Civil Engineering graduate of Northeastern University, Boston, MA.
Registered as a Professional Civil / Structural Engineer whose design accomplishments include the 525 Vine Street Tower and the Pete Rose Hall of Fame buildings in Cincinnati, the Cincinnati Financial office building in Fairfield and the University of Kentucky's BBSRB medical research building and pedestrian bridge in Lexington.
Introduced to soccer when children began playing the game in 1977 having a total lack of understanding of the game and its rules. Coached youth teams in baseball, softball and soccer for several years, which was highlighted with soccer championships in the 1977 SAY Girls Wings and the 1985 USYSA Region II U16 Girls divisions.
Has been a soccer official actively serving in many capacities for over 30 years, and is presently registered as a National SAY Referee, a National SAY Instructor, a USSF State Emeritus Referee, a USSF State Instructor, a USSF Assessor, a USSF Assignor, a Class 1 Ohio High School Referee and an Ohio High School Referee Instructor.
Administratively, has served as president of the Finneytown Athletic Association for more than 12 years, as the Ohio South State Youth Referee Administrator for 6 years and for more than 20 years as the referee coordinator for several major youth soccer tournaments and leagues, including the Buckeye Invitational, the MASC and the Forest Park tournaments.
A member of the SAY Referee and Rules Committee for over 25 years, serving as its chairman for the past 13 years, as well as being a SAY NBOD member and the National Director of Officials for SAY over the same period of time.
An active member of the USSF/Ohio South State Referee Committee Board of Directors. Presently functions as the Cincinnati District Referee Administrator, which he has done for the past 20 years, as the State Assignor Coordinator, as the ODP Referee Coordinator and as a primary referee assignor for the OSYSA State Cup.
A charter member and one of the founders of the SouthWest Ohio Soccer Officials Association having served on its EBOD as the Rules Interpreter since its inception in 1994.
A 2001 Founder's Cup Honoree and a recently elected inductee into the Ohio Soccer Hall of Fame.
Recently retired after working for 40 years as the chief statistician for the home games of the University of Cincinnati Football, Men's Basketball and Women's Basketball programs.
And finally, but not the least, an avid, die-hard Boston Red Sox fan and a staunch NY Yankee hater, who considers Fenway Park to be is as good a second home as one could have.
2017-18 LOTG Explained
---
2016-17 LOTG Explained
---
Small-Sided Rules
---
No Heading Rule
---

State Referee Administrator
Ken Baldeosingh
8969 Cedargate Pl
Dayton, Ohio 45424
937-545-6864
kenb8969@aol.com